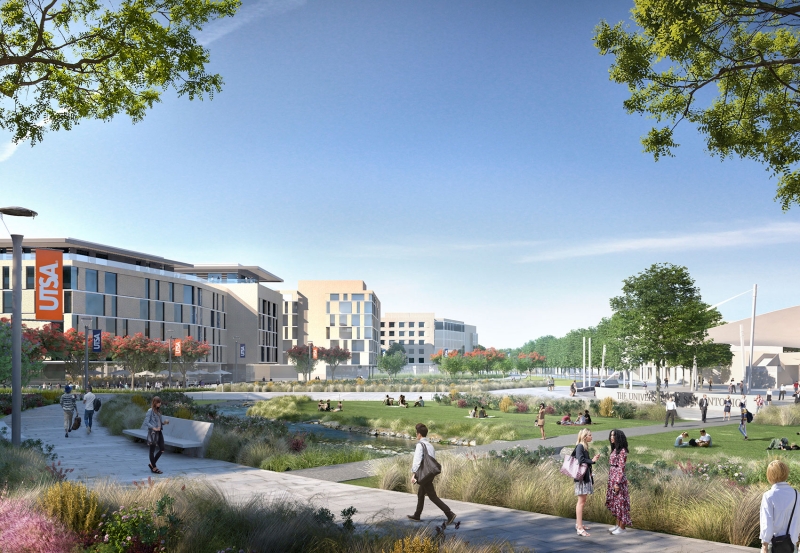 Recognizing the creative and collaborative way in which the university was fully integrated into the fabric of the city
The Society for College and University Planning (SUCP) recognized our University of Texas at San Antonio (UTSA) Campus Master Plan with a 2020 Merit Award of Excellence in Planning for an Existing Campus. This is a national honor that shows the university is on track to fulfill President Taylor Eighmy's ambitious ten-year vision.
UTSA is a public research university with more than 30,000 students on multiple campuses spanning 760 acres of land across the San Antonio metropolitan area. With the goal of growing to 45,000 students by 2028, our master plan provides a vision to support the university's three primary goals: to be a model for student success, a great research university and a model for integrated growth and innovative excellence.
"SCUP's award recognition of the UTSA Master Plan acknowledges the creative and collaborative way the plan fully integrates and engages the institution into the fabric of the city—historic neighborhoods, cultural amenities, and industry partners," explains Page Principal Dan Kenney. "The innovative way the plan mixes uses, eliminating hard lines between academic, student housing and research provides a resilient model for campus development in today's changing higher education environment."
The plan calls for nearly 5.3 million gross square feet of new educational space, plus housing and support facilities, across three of the campuses to accommodate the growth in campus populations and institutional priorities. From an isolated original campus with a disconnected satellite campus downtown, the plan guides UTSA to become a networked campus ecosystem, woven into the fabric of San Antonio.