In recent years, there has been a marked pedagogical shift toward multi-disciplinary, experimental, and project-based learning. To effectively plan for the future and accommodate new ways of teaching, collaborating, and researching – many of which haven't yet been widely implemented or even discovered – many colleges and universities are taking a close look at space planning, design, and utilization.
A growing trend is making the most of limited resources by sharing spaces amongst departments and schools. Campus administrators and designers alike must be nimble and think outside the normal boundaries of space use in order to produce facilities that can accommodate a variety of potential end users. Non-owned, interdisciplinary facilities can evolve and adapt with changing program needs to provide institutions with flexibility.
Configuring spaces in different and changeable ways, as well as creating immersive and active learning areas, promotes cross-collaboration by comingling disciplines, programs, and users that might not otherwise interact, thus setting the stage for intellectual collisions and previously unforeseen teaming opportunities. Buildings that cater to multiple end users by providing shared resources draw in and help retain prospective students and faculty.
In our experience with some of the nation's top higher education institutions, we've come across several important factors to consider when designing spaces for multiple – and potentially changing – stakeholders.
1. Start with a kick-off meeting.
An effective design process starts with a kick-off meeting involving a diverse and large stakeholder group to generate a shared vision for the project. Activities, ice breakers, and short exercises allow opportunities for all voices to be heard within a large group. One of the most effective exercises is a SWOT (Strengths, Weakness, Opportunities, and Threats) analysis – this gives everyone an opportunity to voice concerns, but at the same time look at the positive aspects of coming together. Another activity might include a goal setting exercise to establish shared goals for the project. Casting a wide net for stakeholder input will provide a richer outcome to the goals and vision.
2. Create a steering committee.
The creation of a steering committee will provide project leadership and empower those individuals to make executive decisions. The steering committee should include representatives from the stakeholder groups (typically at an administrative level). Establishing the steering committee before the design process begins will help guide user group meeting expectations. As the process continues, they serve as liaisons to larger constituencies.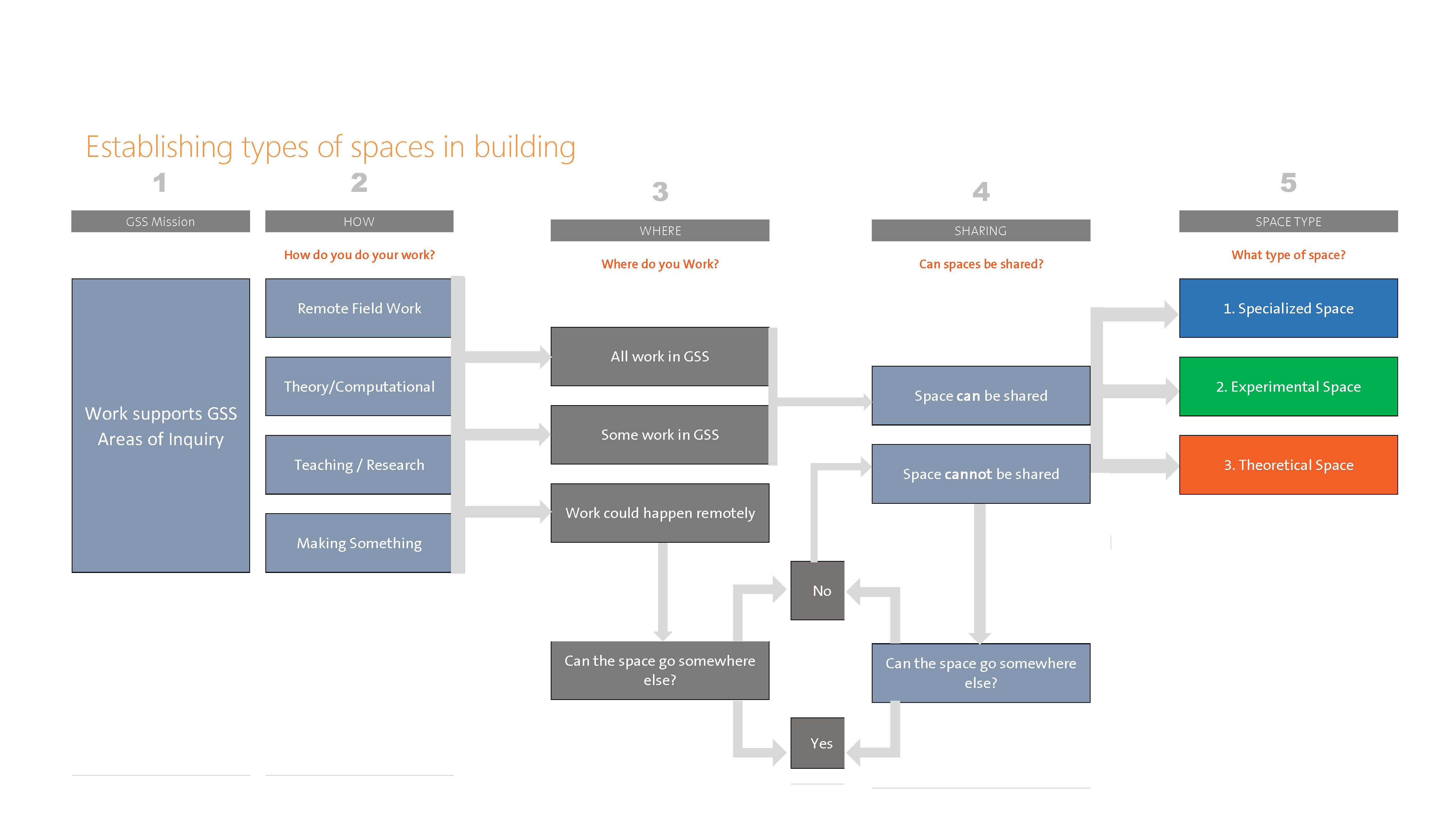 3. Conduct programming workshops
Programming workshops based around typology of spaces (example – instructional wet labs) rather than organizing discussions by department, course type, or specific lab type, provides a broad perspective on activities in the facility. Understanding what stakeholders are doing, how spaces are used, and varied requirements from users guides the development of the functionalities required. The design team can break down typologies into functions defined by uses, recognizing what programs can overlap and what programs are incompatible. This process can be time consuming for the stakeholder representatives, but it is important to have consistent representation – communicating expectations to these constituents in advance can ensure good attendance.
4. Design for function, not departments
Designing for function instead of for a specific department means that no one "owns" or can co-opt the space, but at the same time, many have a stake. Funding and operational structures that might not exist at the institution presently may need to be explored. The operational logistics of a space when shared between disciplines and course types may affect the utilization, therefore it is important to be realistic about turn-over time and prep needs. The sizing of spaces must consider multiple uses utilizing moveable furniture, shared benches and equipment, and it is critical to ensure that sufficient storage and prep lab space is provided.
5. Foster interactivity and collaboration with informal spaces
Incorporating informal and asynchronous learning spaces for students and faculty to interact and collaborate is important for creating energy within non-owned buildings. These spaces help make the building a destination, bringing students in and enticing them to stay. Students who stay in the building are more apt to continue their studies of the same topics when the class ends. It is important to allocate around 12% of the overall program for unscheduled learning spaces. Providing these spaces in a variety of forms such as commons/atriums, enclosed, unenclosed, conference rooms, tutorial, and student writeup spaces will provide options for students and how they learn best.
Designing a building with function vs. end user in mind comes with challenges, but also, a variety of opportunities. By successfully and strategically working together, designers and higher education administrators can foster collaboration between disciplines and leverage interdisciplinary collisions while prioritizing flexibility and adaptability for future use.