Function follows form
The success of a business hinges on the collective effort of high-performing individuals. Offices are more than neutral backdrops against which a company's business plays out. How workspace is configured and appointed influences individual productivity, team dynamics and ultimately company performance.
Inspired by the openness, flexibility and casual atmosphere typical of tech and start-up firms, many companies experimented with these strategies during the last decade in a bid to update operations, manage overhead costs, refresh their brand, enhance company culture and attract and retain talent. These efforts had mixed results because there is no one-size-fits-all solution for creating an optimal workspace. Although space influences behavior, it cannot solve operational problems or transform organizations.
Page's workplace experts collaborate with their clients to provide integrated design solutions that are unique to them, and that promote safety, health and wellness as well as equity and inclusivity. Our teams of strategists and interior designers apply novel insights and creative solutions backed by research and decades of combined experience to thorny workplace design challenges. The end result is custom spaces that address company policies, support workflow, sustain company culture and sometimes inaugurate a new mission or way of working.
Services
Architecture
Corporate / Commercial
Engineering
Interiors
Strategies / Analytics
Heritage driving innovation
When Ottobock relocated their North American headquarters to Austin, they wanted a workspace that would celebrate their passion for movement, honor their long heritage and forge connections with their new home. Page's design offers an immersive experience of Ottobock's brand values to help visitors quickly grasp the company's mission and purpose.
In homage to their Bauhaus-era origin in Germany, white is a central element of the design. Curved white walls and a cantilevered canopy occupy the center of the plan and organize the open office concept into layers that draw users through the space. They also suggest movement and evoke the form and materiality of Ottobock's products. The tactile and honest concrete, paired with expressly integrated mechanical, electrical and fire protection, symbolizes Ottobock's values of precision and the desire to integrate into Austin's high-tech culture.
Hospitality at work
Sceptre Hospitality Resources (SHR) develops innovative software and services for hoteliers across the world. They wanted their new US headquarters in Houston to convey the energy and creativity they devote to their clients' challenges while also supporting employee well-being and morale. Their new design reflects SHR's belief that "work happens everywhere" through an open and flexible layout with 360 degree views of one of the most diverse cities in the US.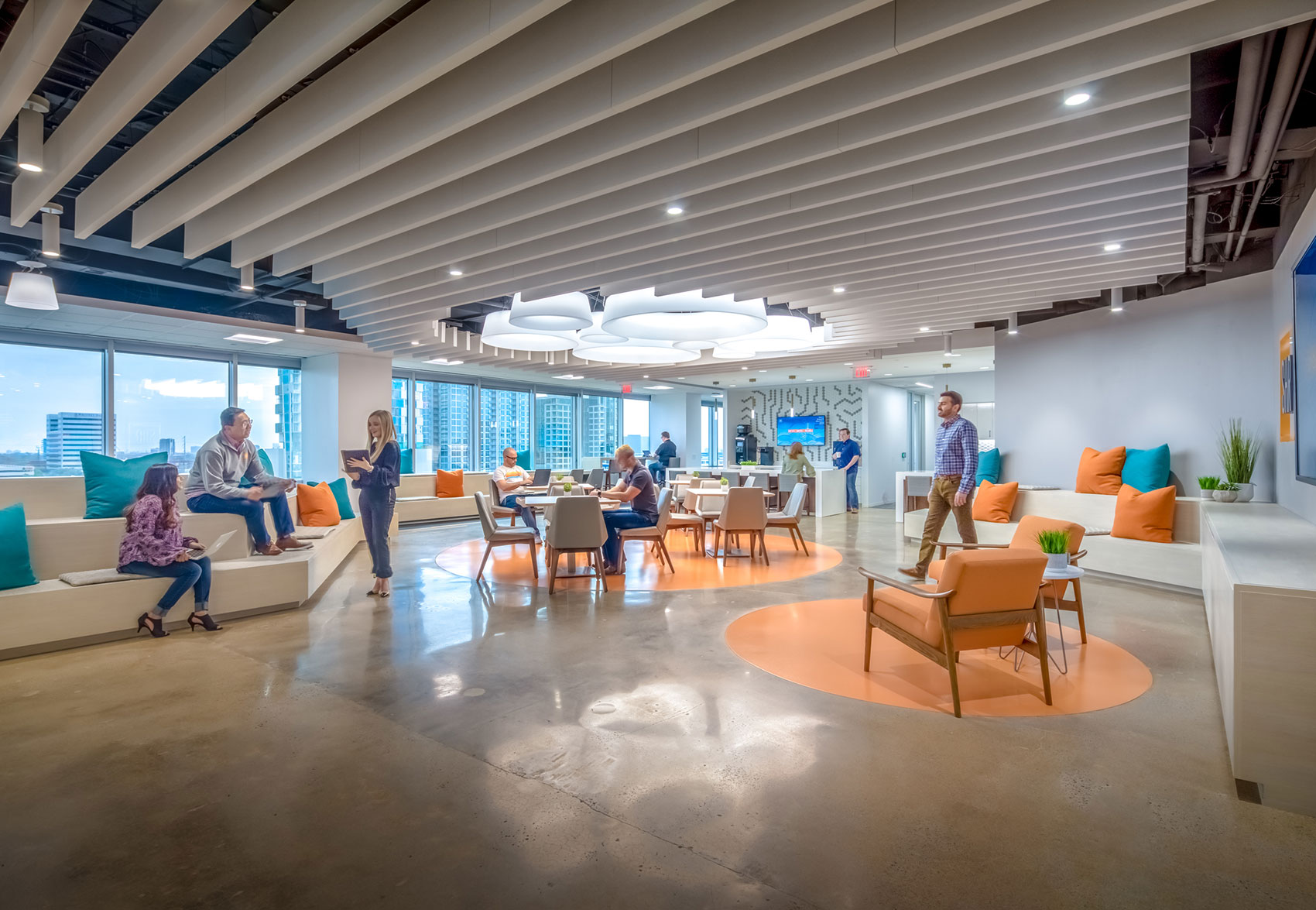 At the heart of the space is the Forum, a gracious common area reminiscent of a boutique hotel lobby where visitors are greeted and company meetings are held. With panoramic views, a variety of seating options and meeting areas, and a kitchen and snack bar, the Forum offers a welcoming and relaxed atmosphere conducive to creative thinking. It signals the value SHR places on collaboration, connection and camaraderie.
Tradition in transition
Financial services professionals depend on visual and acoustical privacy as much as tech workers thrive on collaboration. So, when Page designed a purpose-built tower as well as the dedicated interior for UTIMCO, the investment management company that oversees the endowments for the University of Texas and Texas A&M, they introduced collaborative and flexible spaces in addition to private offices so that employees have options for where to work or meet.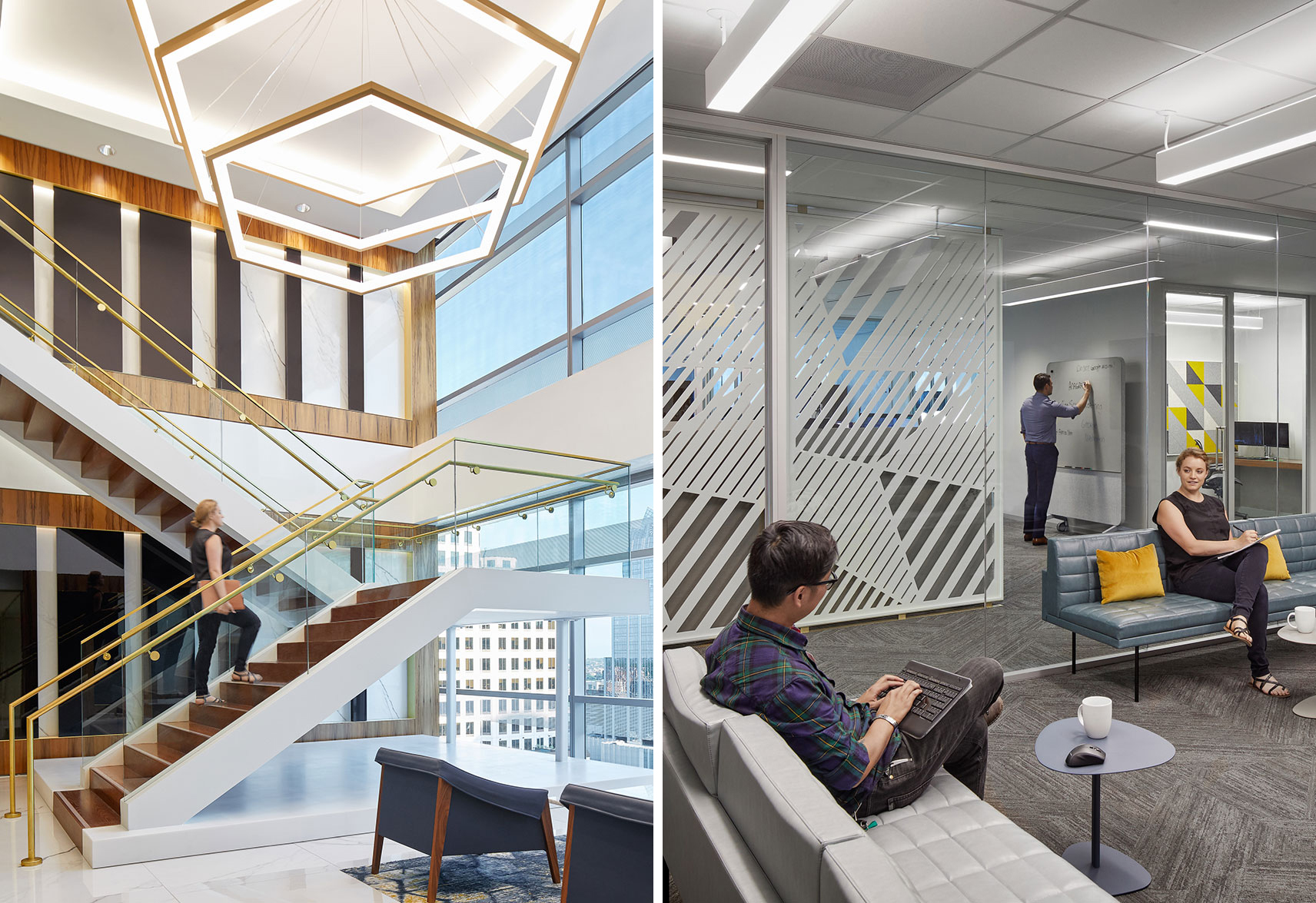 Relocating meant leaving a prestigious address with commanding views of Austin. The Page team understood the new office also needed to impress. The reception area conveys the Fund's values of fiscal transparency and stability through careful detailing of Red Gumwood. Black acrylic panels that anchor the space contrast with translucent glass, cool stone, and crisp solid surfaces that reflect light and suggest the openness and precision core to their values.
Follow the numbers:
50 NUMBER OF COUNTRIES IN WHICH PAGE DESIGNED OFFICE SPACE
25 MILLION SQUARE FEET OF OFFICE SPACE DESIGNED WITHIN THE PAST 20 YEARS
25 PAGE RANKED IN TOP 25 OF OFFICE SECTOR GIANTS BY BUILDING DESIGN + CONSTRUCTION IN 2020
20 CLIENTS ON LIST OF FORTUNE 100 COMPANIES
This is not just another build-out. This project is not copy/paste. It is very unique and it fits our needs exactly. Already we have seen increased collaboration and communication. Personally, I am very pleased with the outcome.

Andreas Schulz