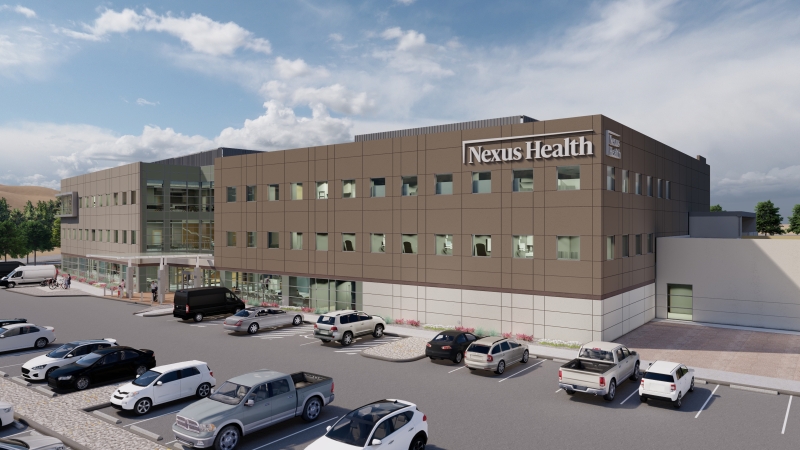 Nexus Health, Meridian, and Page celebrated the groundbreaking of a new state-of-the-art, 95,000-square-foot medical office building and comprehensive cancer care center located at 4200 Beckner Road, Santa Fe, New Mexico, on Friday, May 5, 2023.  
The facility, to be located on an 18-acre parcel of vacant land in the Las Soleras Master Plan district, will provide affordable, outpatient healthcare services to the growing population of Northern New Mexico. The project, with an overall investment exceeding $100 million, is expected to bring significant jobs and tax revenue to the City of Santa Fe.  
Santa Fe Mayor Alan Webber, city officials, Nexus Health representatives, The US Oncology Network Chief Operating Officer Devon Womack, Meridian executives, and project partners, including Skiles Group, Page, Tierra West, and Orion Enterprises, were in attendance and spoke about the project and what it means for the community of Santa Fe and Northern New Mexico.   
"One of the things that is essential for everybody is good healthcare," said Santa Fe Mayor Alan Webber. "It makes all the difference for something so critical as cancer care. This facility is a giant step toward adding to our capacity and strength as a community to care for each other, our families, and our friends and colleagues who need help. It is something we can all be proud of. Everyone will have a stake in the success of this facility and the treatment that goes on that will be patient-centered and the best possible care in the world right here in Santa Fe. We're not only breaking the ground. We are breaking into a whole new level of treatment, care, community engagement, and top-notch patient-centered health."   
"The reason Nexus Health exists is because we thought healthcare could be better," said Dr. Scott Herbert of Nexus Health. "We believe that patients should be treated in the most cost-effective location possible, and those savings should be passed onto patients. Having a new building where all the specialties are in one location is going to make the patient experience better. We are so pleased to bring this incredible facility to the community of Santa Fe. Nexus Health is establishing itself as the outpatient center of choice for this community. We pride ourselves on providing quick access to care and an alternative to the traditional corporate hospital model for care delivery."
The three-story building will include primary care, general surgery, cardiology, pulmonary, medical oncology, infusion, radiation oncology, imaging, lab, pharmacy, breast surgery, orthopedics, physical therapy, urology, gastroenterology, neurology, rheumatology, neurosurgery, and gynecologic oncology services. The building will have approximately 520 parking stalls and decorative main entry towers, a sky bridge, one linear accelerator vault with room for future expansion, and a prefabricated paneling system to create depth and articulation to the building elevations.