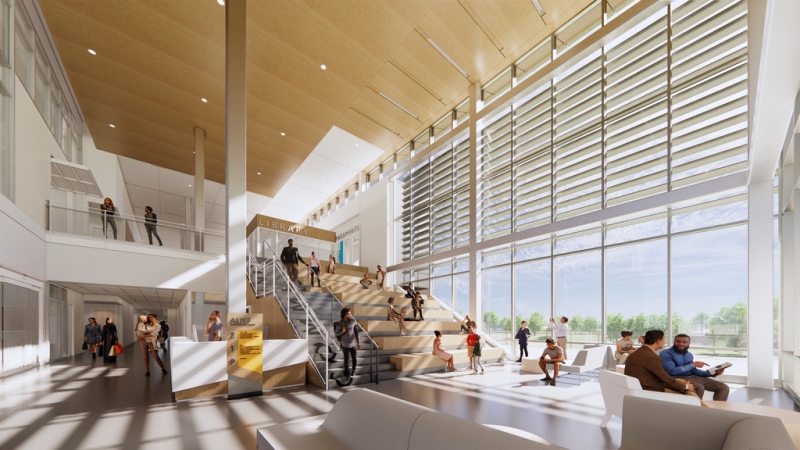 Reimagining how libraries can transform and support the needs of a community
Libraries are transforming to fulfill the unique needs of their communities. While you still borrow and read books here, modern libraries are experimenting with new services – ranging from makerspaces for sewing, textiles, and embroidery to passport assistance, family services, and education programs.
As libraries reinvent their purpose, librarians' roles are also shifting. Historically, librarians were the guardians of knowledge, gatekeeping books, records, and databases. The modern librarian's role is multifaceted with tasks stretching from facilitating community programs to educating customers, assisting with research, and managing social media and website platforms.
At Page, we know there's no one-size fits all approach, so we design innovative, functional envelopes for libraries to discover which initiatives resonate with their community.
Supporting community programing
Libraries are connecting with other community facilities to offer an enhanced experience. The Alief Neighborhood Center incorporates a health center, library, and community center in one facility in a highly diverse neighborhood.
Here, visitors may lounge on the stairatorium, a grand amphitheater directly outside the library, and cozy up with a good book while they wait for an appointment with the health center. The library is also a vibrant component of the recreation department's after-school programming.
At the top of the stairs, Page designed Houston Public Library's TECHLink maker-doer program with custom signage inside a "glass box," reminiscent of an Apple Store. The transparency of glass offers a more welcoming atmosphere that invites a passerby to curiously look in at the innovation happening inside while also providing a clear sightline for staff to assist those in need.
Providing access to state-of-the-art equipment
The TECHLink program offers free access to state-of-the-art equipment – including a multimedia space, a video studio, music studio, maker's space, and workshop – for customers to express themselves individually or collaboratively. A Tiny Techs space is also equipped with tablet devices, offering educational, developmental, and creativity-based programming for children under 12 years old. This exceptional service allows one's imagination to transform into reality.
The library also includes a teen area with an Xbox and games, as well as a stage in the children's room to allow for spectacular make-believe play.
Combining gathering spaces
Similarly, the City of Buda Municipal Complex combines a City Hall, library, and a Public Safety Building. The new library facility offers a wide variety of unique gathering spaces, and a shared living room connects the facility to the city hall, creating a central hub for Buda civic life that lays the foundation for continued community growth.
As different services are often offered throughout the day, meeting spaces may be used for multiple functions. These spaces are designed with increased flexibility and storage. For example, the same space providing comfortable floor seating for children can be transformed for senior enrichment programs, requiring tables and chairs. In addition, these large rooms can support community services such as voter registration, education programs for members to learn how to get involved with elected officials, or for civic discussions to occur in constructive formats.
The Buda Library is also a Family Place Library, a network of children's librarians who embrace the idea that literacy begins at birth and believe libraries can help build healthy communities by caring for families. The facility offers a family space dedicated to nurturing early childhood development and offering parent support and education – such as behavior help and programs for families with English as their second language. This community service has become one of the most popular places in the library, with soft seating, a functional play area, and plenty of board books.
Creating a harmonious transition between outdoor and indoor spaces
The complex is situated adjacent to Stagecoach Park with a heritage of longhorn ranching, giant oak trees, and wildflowers. The facility's design creates a harmonious transition between outdoor and indoor spaces with earth-tone interior finishes and large glass walls. An outdoor reading garden is filled with butterfly-friendly plants, which creates a stunning iridescent scene during Buda's butterfly season.
The Robinson-Westchase neighborhood library also connects the community to nature by replacing 70% of the existing walls, allowing for enhanced daylighting and views of the adjacent hike-and-bike trail. The reimagined library opened to an enthusiastic community and continues to be among the Houston Public Library's most-used locations.
Today's libraries need spaces that morph and change throughout the day, seasons, and years as activities and programming shift. Page engages in extensive conversations with user and staff groups to tailor facilities to the community it represents, offering forward-thinking spaces that meet and exceed expectations.
About Wendy
Wendy has devoted her career to social and environmental improvement through community-based projects and initiatives. She leads Page's Civic/Community/Culture sector and oversees civic and academic projects. Wendy joined Page with 10 years of architectural experience with public projects, 8 years as a facilities owner's representative, and 4 years in city planning.
While in public service, Wendy implemented the US Green Building Council's LEED rating system for City of Houston capital projects. She also helped implement alternative project delivery methods for City projects which advanced goals for sustainable community assets available to all citizens.
Her favorite projects involve giving new life to existing buildings (using their embodied carbon) for the public: the Robinson-Westchase Neighborhood Library Renovation and the restoration of the Harris County Jury Assembly Building, both with Page; and the green restoration of four historic libraries with City of Houston. As the daughter of a Landscape Architect, she enjoyed bringing public parks back to life while managing the City's Parks to Standard program with Page's Jeff Bricker.
Wendy believes that improving the civic environment requires civic participation, which has been the focus of her work to strengthen the architectural industry in Texas. She has served as the Vice President for Advocacy for Texas Society of Architects (TxA) and other past TxA positions include Chair of the TxA Government Affairs Committee,  Executive Trustee of TxA Architects Committee, and Chair of the Advocacy Houston Advisory Committee. She also was a member and eventual President of the Architecture Center of Houston (ArCH) Foundation Board. Prior to that, Wendy served as the Public Relations Member of the AIA Houston Board.