When it comes to travel, airports are much more than just bustling transportation hubs. They are gateways into vibrant cities, offering a first glimpse of what lies beyond the terminal doors. Security checks and stressful delays can overwhelm travelers, but an intentional airport design has the power to captivate our imagination, evoke a sense of wonder, and ignite the anticipation of discovering new places.
Page celebrates the magic of flight and elevates design thinking to create memorable experiences. We embrace unexpected materials, create thoughtful pathways, and pay attention to details that showcase the extraordinary, transforming the traditional perspective of travel.
Gateway to Communities
Whether inbound or outbound, the immersive terminals are infused with the city's local flare, leaving an indelible impression. The strategic use of artwork and the incorporation of indigenous materials transport travelers on a visual journey that provides a rich glimpse of a region's culture.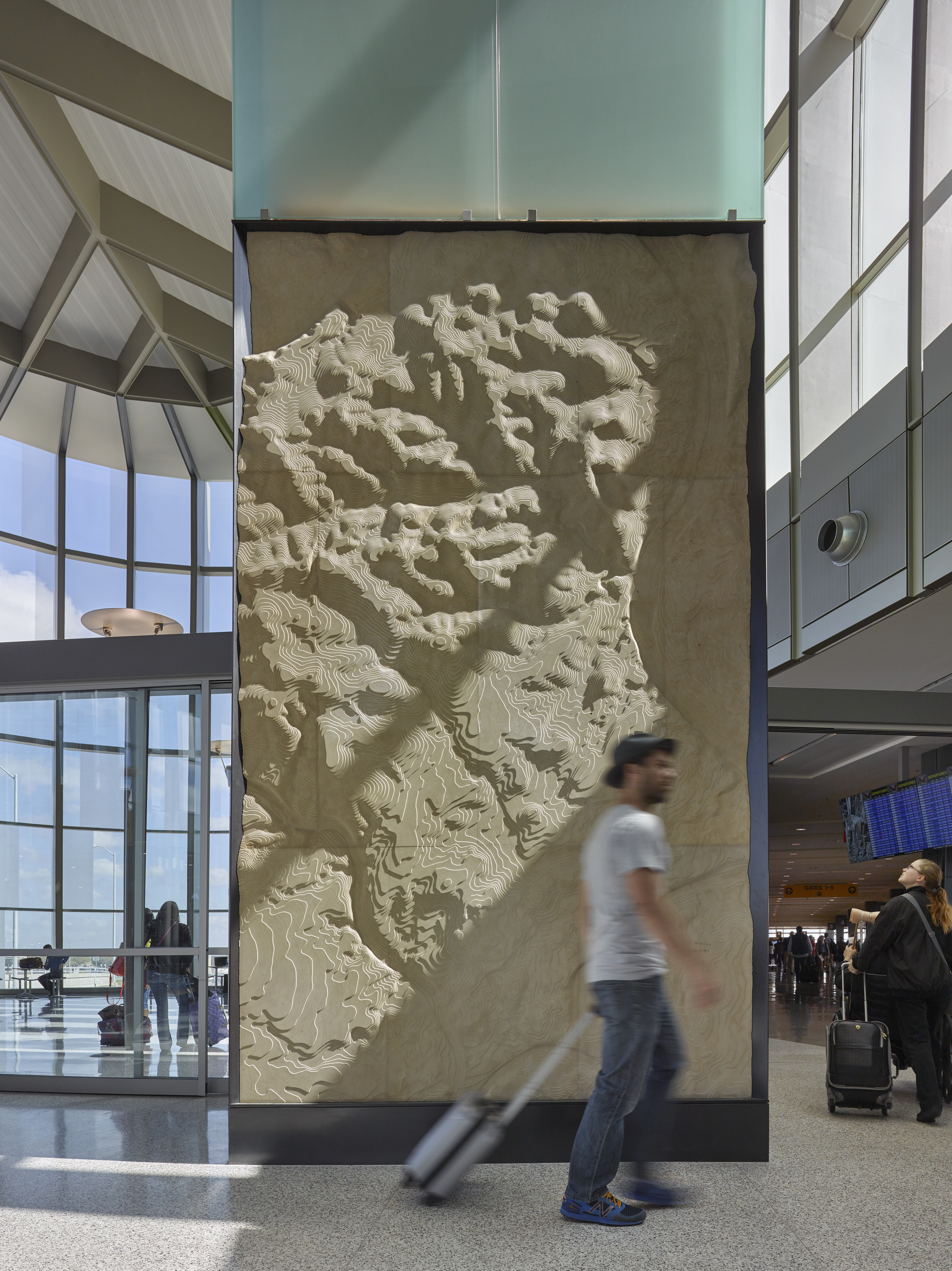 Austin, Texas, is known for its laid-back character and its settlement along the Colorado River. So, in the Austin-Bergstrom International Airport, Page artfully paid homage to this legacy. At Checkpoint 1, after you get through security screening, travelers are immediately greeted by two large towers decorated with a digitally fabricated topography map. This stone-carved artwork highlights the twisting nature of the river and the elevated landscape west of Austin, known as the Hill Country. Many Austin streets are named after Texas's rivers, so a mural on the baggage claim floor depicts these spanning bodies of water, while a second mural depicts a grid of downtown Austin. 
Natural lighting plays a crucial role in creating an outdoor-like atmosphere in the terminal. For instance, the elliptical form with glass curtain walls creates a seamless transition between environments, while protecting travelers from Austin's scorching summer sun.
Page, in collaboration with HOK, also designed an expansion of the international terminal at Houston's George Bush Intercontinental Airport to connect to the city's unique character. Here, the design challenged the misconception that Houston lacks green spaces, as many visitors are surprised to find various parks, bayous, waterways, and nature reserves. To weave this narrative through the terminal, Page incorporated biophilic elements and subtle graphic displays of the city's natural environments.
The artwork and connection to the outdoors breathes life into these thresholds, fostering an enchanting connection between travelers and the city.
Multicultural Melting Pots
As microcosms of cultural diversity, swarming with travelers from every corner of the globe, the importance of intuitive wayfinding is paramount to cater to the needs of diverse travelers. Our systems seamlessly guide passengers so everyone can be fully immersed in the enchanting spirit of flight.
Houston is one of the most diverse cities in America, with its residents speaking an estimated
145 languages and 48% of the population using a language other than English at home. So, from the international wing to domestic terminals, Page prioritized travelers' navigation experience. Our designs at IAH – including the International Terminal and United Airline Terminal B redevelopment, which is currently in the design phase – are carefully planned to enhance the arrival experience. It features well-designed roads and curbs, strategically optimized to facilitate smooth customer flow. The clear and informative wayfinding signage ensures a seamless transition from the road to the terminal, guiding travelers effortlessly along their journey.
Gone are the days of feeling lost or overwhelmed amidst a sea of terminals and gates. This ease of navigation allows passengers to focus on the excitement of their journey, rather than getting caught up in the logistics of finding their way.
So, next time you're in an airport, we encourage you to discover regional art and craft, eat flavorful local dishes, watch outgoing flights from the sizable windows, and even feel mesmerized by the ambiance – it's all part of the magic.