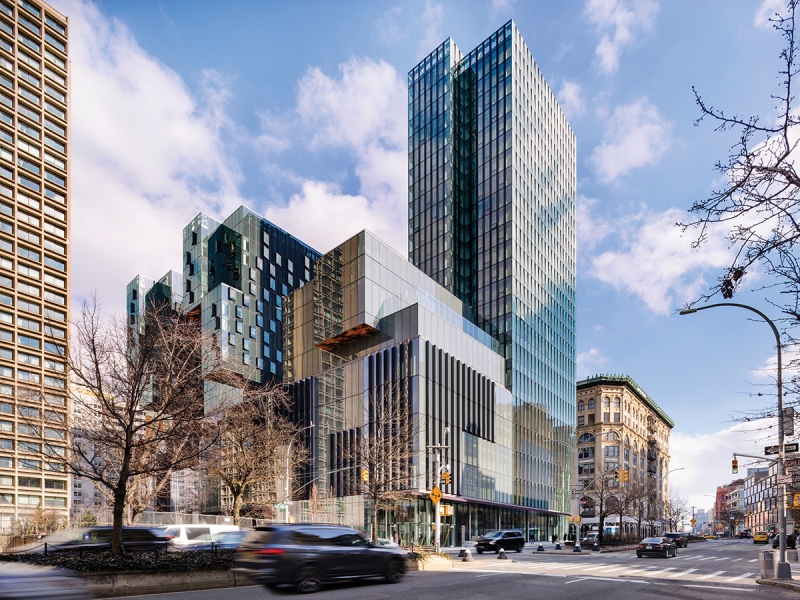 Shared Design Excellence, Collaborative Approach, and Client-First Perspective Ensures Continued Success
As reported by Architectural Record, Page, a leading multidisciplinary design, architecture, and engineering firm, today announced that Davis Brody Bond has joined its team to expand its presence in New York City. Davis Brody Bond is known for designing and implementing complex, distinctive projects like the National September 11 Memorial Museum and the recent Perelman Performing Arts Center at the World Trade Center site, as well as the Smithsonian Institution National Museum of African American History & Culture in Washington, D.C. 
"Bringing Davis Brody Bond into the Page family is a significant step for our firm," stated Thomas McCarthy, AIA, LEED AP, CEO at Page. "For several years, we've been thoughtfully assessing the best way to extend our presence into New York City, and given our past collaboration with Davis Brody Bond, we knew the firm shared our design ethos and client-first approach. We both understand the intricacies of designing complex projects that exceed our clients' expectations." 
The firms previously collaborated on the U.S. Embassy project in The Republic of Kosovo to implement a technologically advanced design aligned with the U.S. Department of State's Excellence Initiative, including several energy efficiency, sustainability, and resilience strategies. The plan helped the Embassy target LEED BD+C Gold certification. The firms also worked together on the fifth-largest Embassy complex in the world, the U.S. Embassy Compound in Jakarta, Indonesia. In addition to the diplomatic mission to Indonesia, it houses the U.S. Ambassador to the ASEAN trade federation, USAID, the Foreign Commercial Service, and a branch of the Library of Congress. 
"Today, architects, planners, engineers, and designers have an opportunity to reflect and rethink what we have to offer that is relevant to the world and our profession," said Steven M. Davis, FAIA, partner at Davis Brody Bond. "By teaming with Page, we're creating a critical mass with the resources to continue as thought leaders in this complex, changing time. We're thrilled to join the Page team to preserve and extend Davis Brody Bond's legacy." 
Page has worked on New York metro area projects for years, including the 530,000-square-foot Helena Theurer Pavilion for Hackensack Meridian Health and restoration work on Ellis Island for the National Park Service. The firm also recently completed plans for a major restoration project for Rutgers' 47-year-old, 650,000-square-foot Medical Sciences Building, the central hub of the New Jersey Medical School in Newark, New Jersey. 
Davis Brody Bond partners—Steven Davis, FAIA, Will Paxson, AIA, LEED, Carl Krebs, FAIA, and Christopher Grabé, FAIA, LEED—will become principals at Page. Mark Wagner, AIA, the award-winning architect, project architect, and designer for the National September 11 Memorial Museum, will also become a principal. Steven Davis will be an advisor to Page's board of directors. All other Davis Brody Bond employees will also join Page.  
About Davis Brody Bond 
Established in New York in 1951 by Lewis Davis, FAIA and Sam Brody, FAIA, Davis Brody Bond first came to national prominence in the 1960s with the design of several groundbreaking publicly funded housing complexes in New York. The firm's work soon expanded to include many important civic and cultural buildings, including the competition-winning US Pavilion at the Osaka Expo 1970 and the New York Public Library restoration. The firm's established commitment to equity in the built environment was reinforced with the addition of partner J. Max Bond, FAIA, in 1991, whose portfolio included the Martin Luther King Jr. Center in Atlanta and the Studio Museum in Harlem.   
The firm has been honored with many awards, including the American Institute of Architects' highest honor, the Firm Award, numerous National AIA Honor Awards, and the US Government's Presidential Design Award. In 2012, the firm was awarded a Special AIA President's Medal as "Architects of Healing" for the firm's work at the site of the 9/11 attacks in New York. 
About Page 
With roots extending back to 1898, Page is a prolific and enduring architecture and engineering design practice. 1,400+ employees strong, its community of designers focuses on transcending conventional solutions and delivering projects that foster innovation, sustainability, and community engagement. They pair the art and science of possibility with the ingenuity and practicality to make it happen. The firm's diverse portfolio includes interdisciplinary projects in the academic, advanced manufacturing, aviation, civic, government, healthcare, hospitality, mission critical, multi-family residential, office, retail/mixed-use, science and technology, and workplace sectors. From 21 office locations across every region of the U.S. and abroad, Page helps clients Think What's Possible to realize their vision. Learn more about the firm at pagethink.com. 
Editorial contacts: 
Charlie Barrett 
Communications Manager 
media@pagethink.com 
OR 
Sarah Goodman 
FINN Partners  
Sarah.Goodman@FinnPartners.com