Thoughtful design of green spaces for health care and behavioral health facilities can improve patient outcome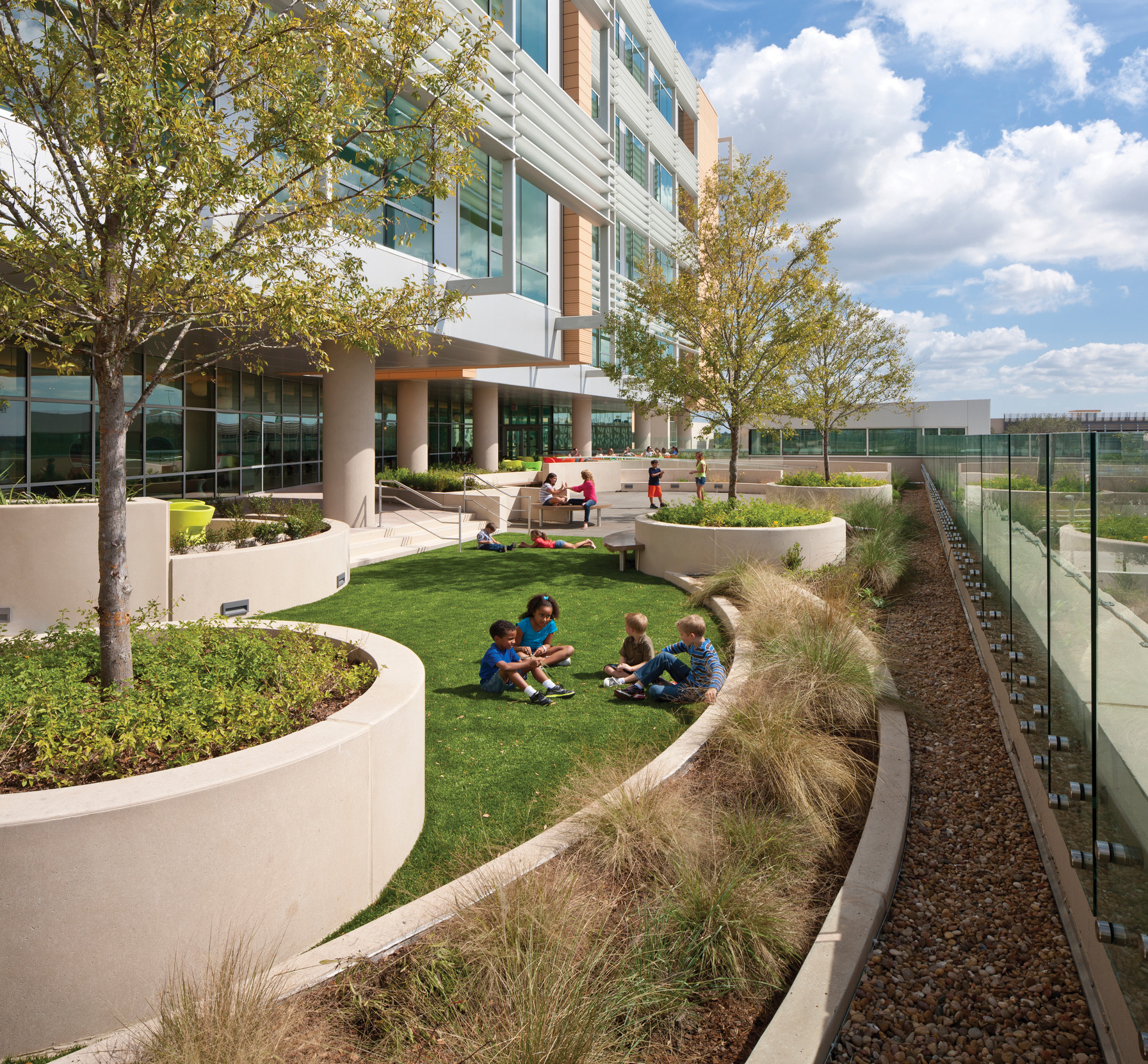 A conversation with Jessica Petro, Page landscape architect and Ricardo De Leon, Page architectural designer, about designing green spaces for health care and behavioral health facilities, yields some surprising insights into the impact this element can have on patient health.
Can you address some of the concerns for landscape design in a healthcare setting?
Jessica: If you think of the landscape as a healing component, you consider not only the plant palette and healing as a natural system but also the human interaction and what that means for the healing process. This creates an additional layer of depth and meaning.
Ricardo: When you review strategies to improve health, there is a lot of research about integrating nature. One of the most famous was Roger Ulrich, who in 1984 found that hospitalized surgical patients with a view of a brick wall did far less well in recovery than patients with a view of trees, on measures including length of stay, pain medication use, and positive nurses' notes. So considering views from patient rooms is a necessity when designing a hospital, as the view has a measurable impact.
Jessica: With design we try to think of all aspects of the patients' and visitors' needs. In addition to accessibility and intuitive wayfinding/access, there are times when our designs need to be adjusted to better meet people's underlying conditions as well. For example, for patients with compromised immune systems, considerations of water features and their placement; location, frequency, and types of seating; even the type of mulch that is used, are so important. You aren't just considering aesthetics, but the impact on people who will be visiting that space.
What's your process when you begin to design healthcare landscapes?
Jessica: I think a lot initially about site context and the immediate healthcare campus. If this is a new building, I start at a macrolevel and try to understand how best to connect it to its community. Maybe I'll look at transit access, and the types of patients being served. Then I'll consider the concept of a "front door," creating a welcoming environment for anyone, whether they are joyous or anxious.
Ricardo: Agreed, I also start at the macrolevel. For example, in determining a good site to build a behavioral health facility in Houston, I first mapped the city, looking at areas most in need considering economics and mental health issues. The place we identified was actually an abandoned hospital in the center of the community. Then we started exploring our design strategies, including those that help to take away the stigma of mental health treatment. A lot of that can be done with landscaping, greenspace, and connecting the site to the community.
Jessica: The next thing I do is look at site systems: what is the natural vegetation, topography, drainage, soils? All these natural systems that help inform the climates and microclimates. We strive to give the space regional context and understand the client's needs, mission, and values, weaving those elements together to come up with meaningful spaces appropriate to their program.
How can landscape designs reduce anxiety or stigma for patients and visitors?
Jessica: Reducing anxiety comes through aligning landscape design with wayfinding and circulation, so there's a safe, intuitive way to get to and navigate through the campus. Predesign and early concept meetings with the client help to start formulating spaces. In addition to outside spaces, there might be interior spaces like pocket courtyard gardens dedicated for staff or patients and other opportunities for the landscape to be pulled throughout the facility, as well as to enhance views from the inside.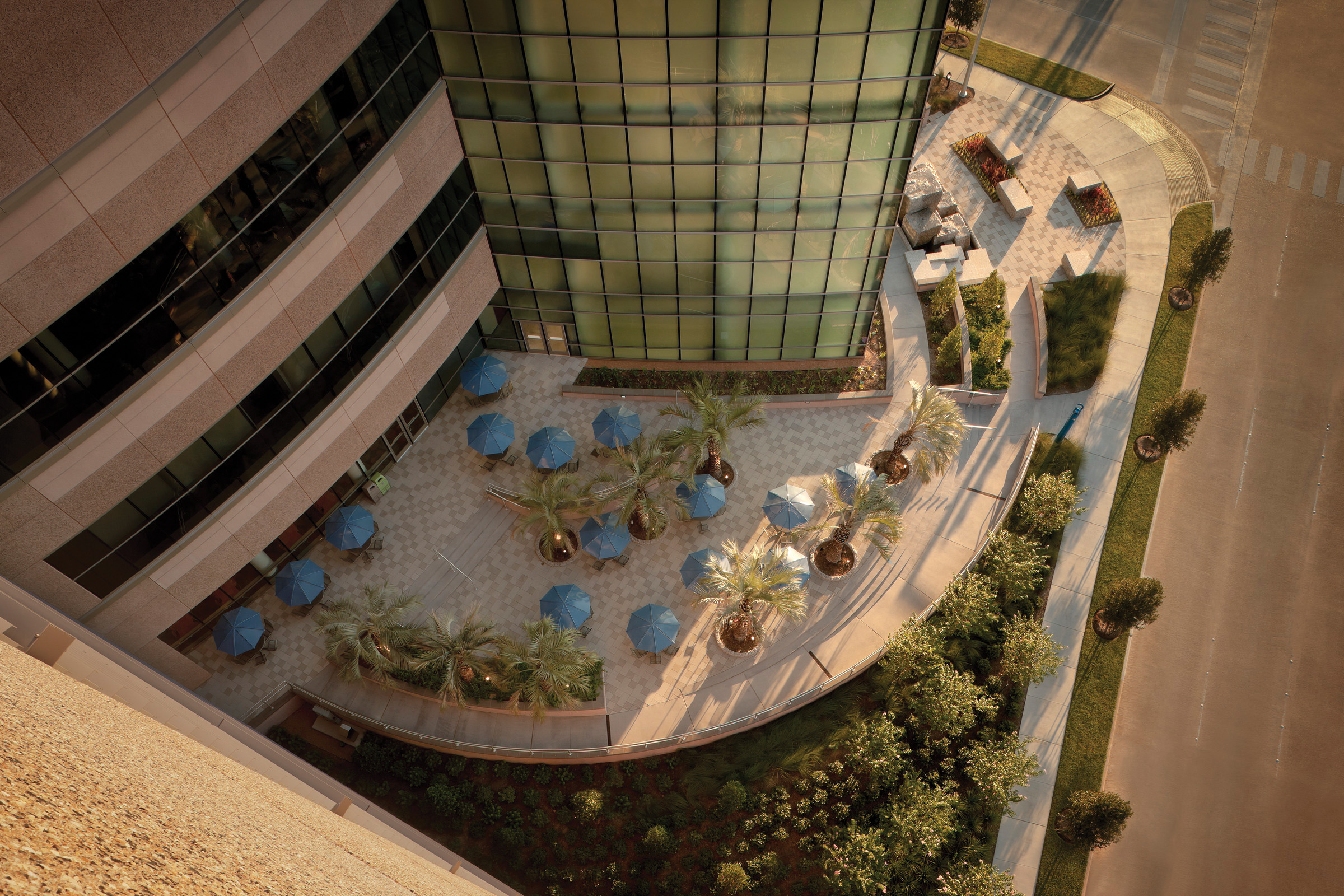 Ricardo: Mapping helps you understand how to connect the site to other main points through the implementation of green spaces. Streetscapes can create a buffer for pedestrians, protecting them from traffic while creating safe and attractive paths that can accommodate community members and patients. You can also make outdoor waiting spaces, niches where visitors, patients, or family members can sit quietly.
Jessica: Specific landscape spaces can be unique in such a way that they act as wayfinding elements themselves, which is helpful on medical campuses that are large. Distinct spaces with planting, a water feature, or a sculpture that is easily identifiable helps move people through the space. These spaces can also be donor opportunities, whether naming space or providing for meaningful connection of the landscape and the campus' mission, like a therapeutic garden.
Ricardo: The more you connect the space with greenery, gardens, beauty, and relaxation, the less institutional it will seem. This reduces stigma and makes the facility a positive addition to the campus and neighborhood.
What type of plantings are best for healthcare spaces?
Jessica: I've worked with both wild, native plants and more organized, formal gardens. Some clients want manicured gardens that are ever-blooming or layered in such a way that whatever the season, there are beautiful plants. In New England, during the colder parts of the year, you don't have that option. Winter landscapes can still be restorative and peaceful, it's just a different approach—such as planting trees with exfoliating bark or that produce different colors against the snow. You still have that sense of an organized garden, but it's not too stark or solemn. I'd love to explore a healing space that celebrates all seasons in a naturalized setting for a hospital.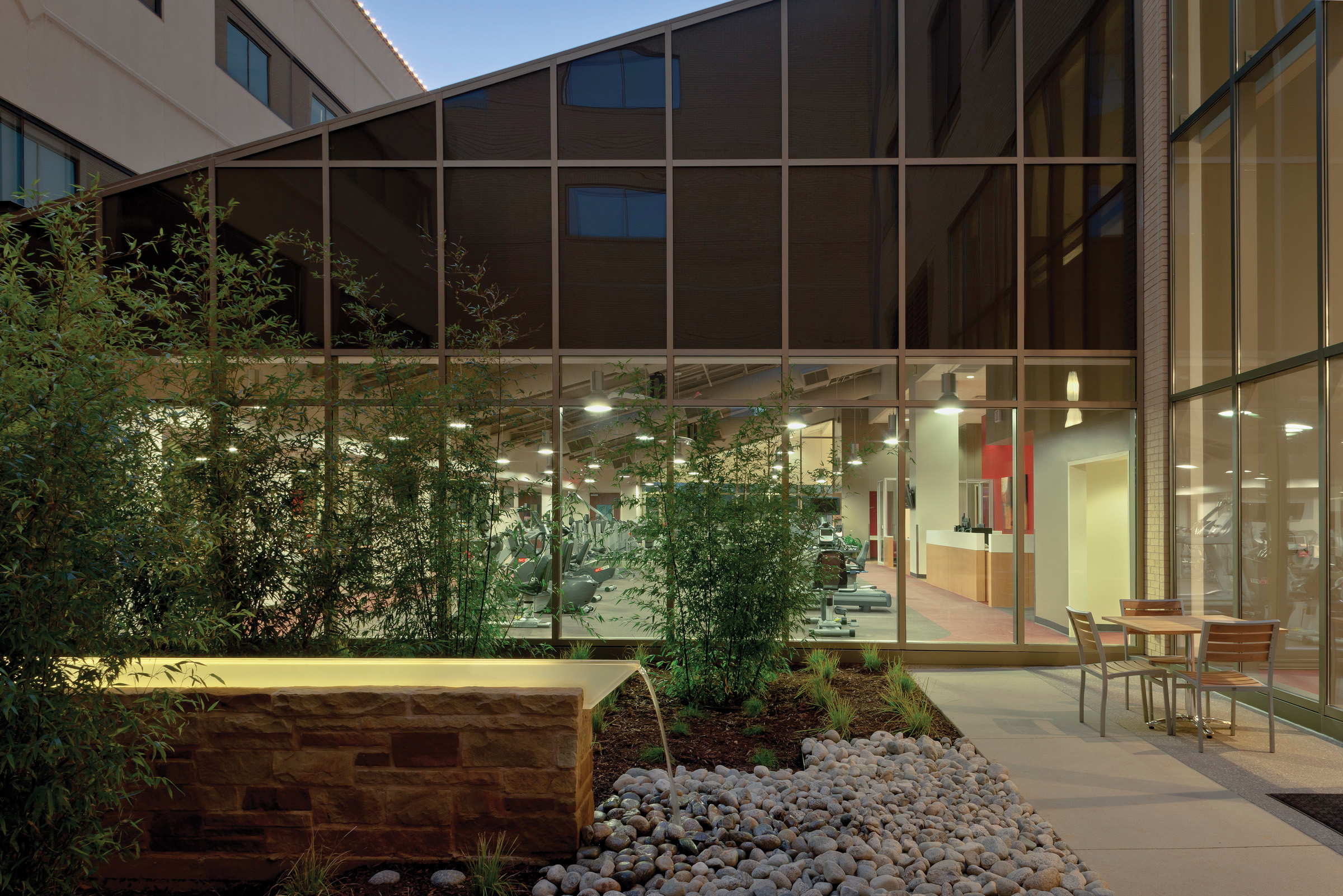 Ricardo: For behavioral health, the intent of a courtyard is to provide a secure space for patients who can enjoy the outdoors without being surrounded by fencing and barbed wire. The courtyard can have multiple private spaces or a more communal space, so there is choice within the circulation. Patients who want to be on their own can be out enjoying the sun, but they don't have to be around other people. You can create that visual separation by selecting vegetation that provides privacy. And fountain noises can be comforting—you just have to make sure the fountain is thoughtfully designed so it isn't itself a hazard.
How do you prioritize sustainability in a healthcare landscape?
Jessica: In the past, we thought of hospitals as having manicured, high-maintenance landscaping, but that is changing. With an increasing awareness of climate change comes trying not to waste resources, to work with nature, to reduce water use. Hopefully, this will start to change the concept of what beauty is and what healthy landscapes can look like.
Why is it important to consider the types of patients served at a facility?
Ricardo: On the behavioral health side, when creating spaces, we try to make patients feel comfortable by using materials and plants people are familiar with—especially patients with dementia orAlzheimer's. Surroundings that feel more homelike, for outpatient facilities. For in-patient facilities, the priority needs to be on eliminating any way patients could harm themselves.
Jessica: Yes, outpatient behavioral health landscapes would be different than inpatient. You aim for a careful integration of the building within the community; creating a porous environment that has a care model that is open and inviting. Designing thoughtful opportunities for a seamless integration with the neighborhood, such as trails or gardens that allow families as well as patients to experience the campus, helps reduce the stigma of behavioral health facilities. If you're constantly walking past the facility, through its beautiful surroundings, it just becomes part of the fabric of your life.
How can outdoor space serve both the facility and the community?
Ricardo: It helps to consider the community's needs in the design. Does the community need places for people to walk safely, to hold community meetings and activities? To practice meditation? For their children to play? Nature is so important for child development, you can involve the family in tree planting and allow children to play among the trees, stones, sticks, water. If the facility requires a private entrance, you can provide access through a courtyard, with its columns covered by nature. That provides more privacy and more freedom.
What's next for healthcare landscaping?
Jessica: I'm excited about what I'm seeing, which is landscape being integrated as part of the healing process and having a broader discussion about its role within the healthcare campus. The discussions with our team, clients, and their stakeholders center around the perception and identification of the landscape's design, its many and varied spaces, and the purpose and importance of a creating a healthy ecosystem – not only for humans but for nature as well.